One year ago: company visit by Elisabeth Borne, Minister of Transport
23 Sep 2019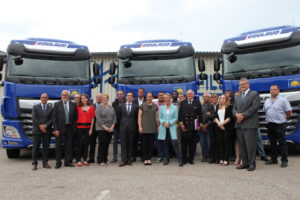 On July 16, 2018, Mrs. Elisabeth BORNE, Minister for Transport, accompanied by local elected officials and the Deputé Jean-Baptiste Djebbari, came to Limoges. Her objective was to review the improvement of the region's transportation network with local political and economic actors.
The visit of the company ROULAUD Transports was an opportunity for Laurence Roulaud, its president, to present the company, its history, its activities, its commitments and of course its teams.
The story of a transport and logistics company, established in the same place since its creation 68 years ago.
In the beginning was the national and international road freight transport.
It became the historical core business. This activity was essential to the economic development of our region and the success of its producers and manufacturers of all sizes. The secret of our longevity is to maintain the flexibility of an SME, close to its customers and anchored in its territory. The company now has a fleet of more than 120 vehicle registration cards including 60 motor vehicles.
Then came logistics, a complementary activity, now inseparable from the first.
ROULAUD Transports has been a pioneer in investing in this field in the 80s. We now have a storage capacity of 18,000 m² spread over several sites in the Limoges region. In keeping with its spirit of responding as closely as possible to the needs of our customers, we have also developed a freight forwarder activity that allows us to provide tailor-made services.
A company is also a responsible economic actor.
As a responsible company, ROULAUD Transports is committed to reducing pollution and the consumption of its vehicles: a determined and voluntary approach to sustainable business development. Since 2010, the company has been voluntarily engaged behind a Charter to reduce CO2 emissions. We have confirmed our efforts by obtaining the CO2 Objective Label in February 2017. This places us at the 33rd rank of French companies labeled and first company in Limousin. This label recognizes a level of excellence in environmental performance.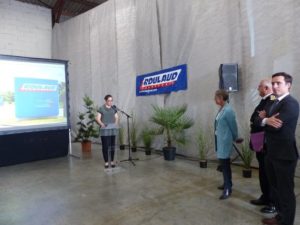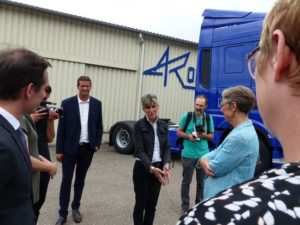 During her visit, the Minister and the elected representatives (including Deputy Jean-Baptiste Djebbari) were able to meet all the staff who joined the celebration.
ROULAUD Transports: putting in synergy passion for transport, technology and human expertise at the service of our customers.
ROULAUD Transports receives its first 6 FH Fuel Control trucks delivered by Volvo Trucks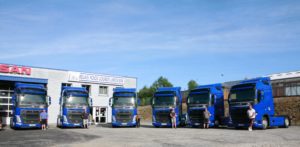 These are the first trucks equipped with the Fuel Control technology acquired by the company. ROULAUD Transports once again demonstrates its commitment to improving the energy performance of its fleet and the eco-responsibility of road transport.
For more than 10 years, ROULAUD Transports has been involved in the implementation of a responsible development policy. This commitment allowed him to obtain the "Objectif CO2" label in 2017.
ROULAUD Transports has chosen to invest in vehicles with maximum energy performance for all its vehicule renewals.
A first for ROULAUD Transports: a truck equipped with Fuel Control.
The first 6 trucks joined the company's fleet in September 2019. This investment is significant but necessary to maintain the quality of our service while confirming our commitment to responsible road transport. Other trucks of the same type will be added to the park in the coming months.
FH Fuel Control by Volvo Trucks: Reducing fuel consumption without compromising productivity.
Maintaining speed while saving fuel is a difficult exercise. The new Volvo FH with Fuel Control is equipped with a high-efficiency engine and a unique combination of driver assistance features for greater fuel economy. This means less acceleration and less fuel required to maintain a constant highway speed. Each of the unique features of the Volvo FH Fuel Control has been designed, tested and proven to save fuel in long haul operations.
This vehicle levels out the driving effect on consumption which improves the consumption of a fleet. Fuel economy means reducing our impact on the environment.
ROULAUD Transports and Volvo Trucks: reciprocal commitments for quality and safety.
To facilitate the handling of the 6 new trucks, Volvo Trucks provided a half-day indoor training on the characteristics of the new vehicles. Then one of their trainers provided a full day of individualized driver training in the truck.
ROULAUD Transports: one additional commitment to the environmental performance of the supply chain.
ROULAUD Transports develops its logistic activity in Limoges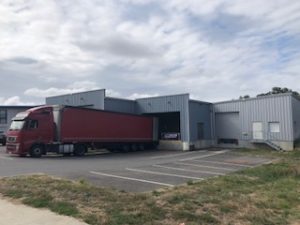 The logistic activity was started in the 80s and strengthened in 2002 by the creation of its logistic center of Saint-Junien. ROULAUD Transports has now made the decision to increase its storage capacity by opening a new warehouse in Boisseuil, south of Limoges.
This choice confirms the company's commitment to always offer more in a growing business. This warehouse will meet the growing storage needs of current customers and better adapt to new demands.
Additional surface, high-performance equipment, strategic location, the new warehouse has been opened since summer 2019.
A total area of ​​3400m² adds +25% more to the current area, bringing our total storage capacity to nearly 18,000m². Thanks to this new tool, our teams will ensure the punctual or permanent storage of your goods, guaranteeing integrity and safety. We can also act as a logistician working with your usual carrier. If necessary, we can finally provide a complete service taking into account the transport of your goods and logistics.
This new warehouse will benefit from our best quality standard:
– 2 leveling docks, 1 dock door,
– Security: secure access, logistic standards,
– Qualified staff.
The warehouse is located in Boisseuil, near the A20 motorway, in the ZA de la Plaine. This strategic geographic positioning will facilitate access to the warehouse of any trucks on the north-south axis. This means optimized journeys and fewer kilometers!
ROULAUD Transports: even more tailor-made and secure logistics solutions.