ROULAUD TRANSPORTS organizes a transport discovery visit for a group of job seekers
29 Feb 2020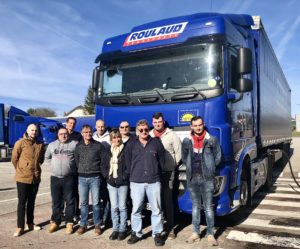 The transport and logistics sector is the 5th economic sector in France. Dynamic and changing, he recruits at all levels. Each year, nearly 20,000 positions are filled. But the paradox is that more than 20% of companies in the sector experience recurring recruiting difficulties. The reason: the image of the profession, which no longer attracts the new generation.
ROULAUD TRANSPORTS organized a discovery tour of the transport profession on its Saint-Laurent-sur-Gorre site on February 21.
A visit organized in collaboration with Pôle Emploi
For this visit, Grégoire Carlier, business advisor to the Pôle Emploi mission in Saint-Junien, was accompanied by a group of job seekers from the region.
The visit began with a meeting with Laurence Roulaud, president and 3rd generation at the head of the company, who introduced them to the history, organization and operation of his company. Then, the group was able to interact with the various teams of the Transport Division: from the operating room, to maintenance, including storage. The visit ended with a real-life situation, thanks to driver support in the cabin of their vehicle.
"The sector is changing rapidly …"
This is the message that ROULAUD TRANSPORTS wanted to convey during this visit. In fact, transport is impacted by new modes of consumption (e-commerce, home delivery, etc.). It is also affected by new technologies (gas vehicles, on-board technologies, etc.). These are all ruptures that lead to constantly adapting organizations and transforming trades towards increasingly sophisticated skills. Yet the image of the profession is still full of clichés from 10 or 15 years ago.
ROULAUD TRANSPORTS makes improving working conditions a priority
The improvement involves the evolution of the material, thanks to the investment in more comfortable and more ergonomic vehicles. 25% of the fleet was thus renewed in 2019. In addition, there are continuing education initiatives and support for responsible driving.
The vehicles have changed, more comfortable and ergonomic. Practices too, with better supervised working hours and conditions. In a word, the profession has changed. It is by multiplying these initiatives that the image of transport can change.
ROULAUD TRANSPORTS: A company committed to training and professional integration in the fields of transport and logistics.