One year ago: company visit by Elisabeth Borne, Minister of Transport
23 Sep 2019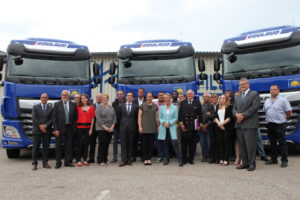 On July 16, 2018, Mrs. Elisabeth BORNE, Minister for Transport, accompanied by local elected officials and the Deputé Jean-Baptiste Djebbari, came to Limoges. Her objective was to review the improvement of the region's transportation network with local political and economic actors.
The visit of the company ROULAUD Transports was an opportunity for Laurence Roulaud, its president, to present the company, its history, its activities, its commitments and of course its teams.
The story of a transport and logistics company, established in the same place since its creation 68 years ago.
In the beginning was the national and international road freight transport.
It became the historical core business. This activity was essential to the economic development of our region and the success of its producers and manufacturers of all sizes. The secret of our longevity is to maintain the flexibility of an SME, close to its customers and anchored in its territory. The company now has a fleet of more than 120 vehicle registration cards including 60 motor vehicles.
Then came logistics, a complementary activity, now inseparable from the first.
ROULAUD Transports has been a pioneer in investing in this field in the 80s. We now have a storage capacity of 18,000 m² spread over several sites in the Limoges region. In keeping with its spirit of responding as closely as possible to the needs of our customers, we have also developed a freight forwarder activity that allows us to provide tailor-made services.
A company is also a responsible economic actor.
As a responsible company, ROULAUD Transports is committed to reducing pollution and the consumption of its vehicles: a determined and voluntary approach to sustainable business development. Since 2010, the company has been voluntarily engaged behind a Charter to reduce CO2 emissions. We have confirmed our efforts by obtaining the CO2 Objective Label in February 2017. This places us at the 33rd rank of French companies labeled and first company in Limousin. This label recognizes a level of excellence in environmental performance.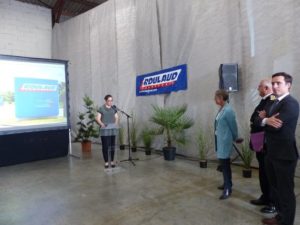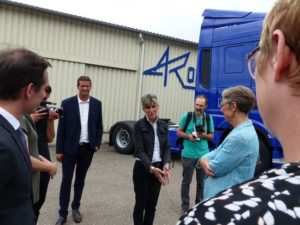 During her visit, the Minister and the elected representatives (including Deputy Jean-Baptiste Djebbari) were able to meet all the staff who joined the celebration.
ROULAUD Transports: putting in synergy passion for transport, technology and human expertise at the service of our customers.