ROULAUD Transports develops its logistic activity in Limoges
23 Sep 2019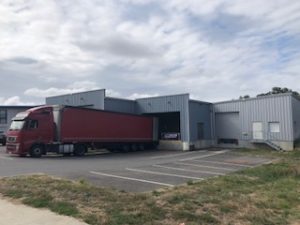 The logistic activity was started in the 80s and strengthened in 2002 by the creation of its logistic center of Saint-Junien. ROULAUD Transports has now made the decision to increase its storage capacity by opening a new warehouse in Boisseuil, south of Limoges.
This choice confirms the company's commitment to always offer more in a growing business. This warehouse will meet the growing storage needs of current customers and better adapt to new demands.
Additional surface, high-performance equipment, strategic location, the new warehouse has been opened since summer 2019.
A total area of ​​3400m² adds +25% more to the current area, bringing our total storage capacity to nearly 18,000m². Thanks to this new tool, our teams will ensure the punctual or permanent storage of your goods, guaranteeing integrity and safety. We can also act as a logistician working with your usual carrier. If necessary, we can finally provide a complete service taking into account the transport of your goods and logistics.
This new warehouse will benefit from our best quality standard:
– 2 leveling docks, 1 dock door,
– Security: secure access, logistic standards,
– Qualified staff.
The warehouse is located in Boisseuil, near the A20 motorway, in the ZA de la Plaine. This strategic geographic positioning will facilitate access to the warehouse of any trucks on the north-south axis. This means optimized journeys and fewer kilometers!
ROULAUD Transports: even more tailor-made and secure logistics solutions.