ROULAUD Transports receives its first 6 FH Fuel Control trucks delivered by Volvo Trucks
23 Sep 2019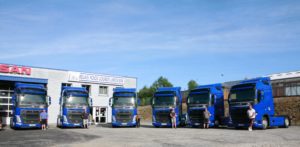 These are the first trucks equipped with the Fuel Control technology acquired by the company. ROULAUD Transports once again demonstrates its commitment to improving the energy performance of its fleet and the eco-responsibility of road transport.
For more than 10 years, ROULAUD Transports has been involved in the implementation of a responsible development policy. This commitment allowed him to obtain the "Objectif CO2" label in 2017.
ROULAUD Transports has chosen to invest in vehicles with maximum energy performance for all its vehicule renewals
A first for ROULAUD Transports: a truck equipped with Fuel Control
The first 6 trucks joined the company's fleet in September 2019. This investment is significant but necessary to maintain the quality of our service while confirming our commitment to responsible road transport. Other trucks of the same type will be added to the park in the coming months.
FH Fuel Control by Volvo Trucks: Reducing fuel consumption without compromising productivity
Maintaining speed while saving fuel is a difficult exercise. The new Volvo FH with Fuel Control is equipped with a high-efficiency engine and a unique combination of driver assistance features for greater fuel economy. This means less acceleration and less fuel required to maintain a constant highway speed. Each of the unique features of the Volvo FH Fuel Control has been designed, tested and proven to save fuel in long haul operations.
This vehicle levels out the driving effect on consumption which improves the consumption of a fleet. Fuel economy means reducing our impact on the environment.
ROULAUD Transports and Volvo Trucks: reciprocal commitments for quality and safety
To facilitate the handling of the 6 new trucks, Volvo Trucks provided a half-day indoor training on the characteristics of the new vehicles. Then one of their trainers provided a full day of individualized driver training in the truck.
ROULAUD Transports: one additional commitment to the environmental performance of the supply chain